Outlander Episode 503, "Free Will," was among the creepiest of the Outlander series so far. We take a look at this colonial gothic horror story.
What happens when Diana Gabaldon's pioneering passionate couple mixes with a bit of Alfred Hitchcock, Stephen King and Edgar Allan Poe? We get Outlander episode 503, "Free Will," a creepy gothic horror tale that haunts both us and our characters long after we ride away from the beastly Beardsley cabin.
The best horror resonates, reveals and magnifies our own fears, weaknesses and insecurities. It makes us question and struggle. We feel unsure and uncomfortable. Outlander Episode 503, "Free Will," causes these emotions for each of our characters, forcing them to make excruciating choices and uncover the core of who they are inside. It reveals Jamie and Claire as individuals, but more importantly, defines them as a team.
From the opening shot of Claire watering her moldy goody on display to the closing shot of a mass migration of now-extinct passenger pigeons blackening our screen, director Jamie Payne guided us on a heartbreaking and unsettling journey of 18th century revulsions, abuse, fear, revenge, and mercy. The camera work immersed us in many gothic horror images and sweeping yet eerie cinematography. Writer Luke Schelhaas' patient creeping story pace and Bear McCreary's haunting score added to the overall tone of this unusual but outstanding episode.
While gothic horror usually factors in the supernatural, it's not usually the overpowering fear. The most effective use of supernatural is understated and highlights the TRUE human horror, the one we can relate to and feel inside of ourselves. What Defines the Gothic Horror Genre?
a dark family history
isolated and eerie settings
religious references
death and decay
madness or psychosis
powerful love or romance
a sense of mystery, suspense or fear
someone in distress (often emotional)
supernatural or paranormal activity
ill weather or eerie atmospheric conditions
omens and symbolic imagery
and a conflicted hero or heroine.
"Free Will" certainly checks all the gothic horror boxes. Before we ever leave Fraser's Ridge, the episode has a unique vibe. A time-lapse of decaying, shriveling, and molding bread leads us into our opening credits (on hindsight, a nice touch of foreshadowing).
Our hero appears on the hill astride his white horse, with a darkening sky behind him, gazing upon his beautiful home. Light. Peace. Warmth. Love. Safety. Family. Jamie thanks God in Latin and makes the sign of the cross as he gazes at his wife, and we're treated to a very beautiful, tender scene between our hero and heroine as they reunite. Every gothic story incorporates powerful romance, and this scene marks a stark contrast to the coming poisonous marriage of Aaron and Fanny Beardsley and their isolated cabin of decay and abuse in the woods.
A somewhat ominous but painted sky looks upon a scene of domestic work around the Ridge as Marsali hacks at a pig. The men and Claire prepare to leave and gather more men for the militia, and we feel a small sense of dread. Throughout the episode, we see the hardships of life in the 18th century, from the effort to send a simple communication, prepare food and develop medicine to travel, getting a wagon over a stream, making camp in the woods and keeping guard against bears, panthers or attacks.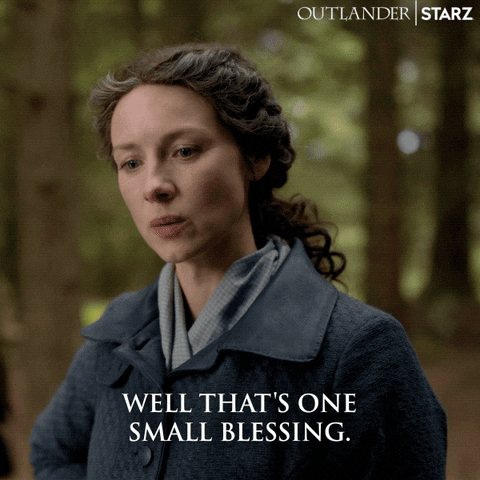 Another moment of dread…Jamie tells Claire their nemesis, Stephen Bonnet, is alive. Jamie and Claire find false solace in the fact that Bree doesn't know (We know she DOES know, and our fear for her is renewed as we realize that she and Jemmy are now alone and vulnerable on the Ridge.)
In the predawn, the fear kicks into the next gear with a chase through the woods. We discover a barely dressed, starving, nearly deaf Keziah Beardsley, the unknown twin of Josiah Beardsley, the new hunter for the Ridge. Josiah begins to tell their horrific tale – the first piece of the dark family history of the Beardsleys. It begins with the death of their entire family on the ship to the New World when they were two years old. The ship's captain sold them to an Indian trader, Aaron Beardsley, for an indenture of 30 years! The first half of their term has been filled with starvation and abuse.
Jamie sends Roger to Brownsville with a quest to fill his muster. "Ye ken what's at stake here?" …"I do, I won't let you down." (Our sense of dread now falls on Roger and only increases later as he promises a poor widow, Joan Findley, that he will return her teenage boys safely.) The Frasers head to the Beardsleys' ramshackle cabin in the woods to acquire the twins' indenture papers.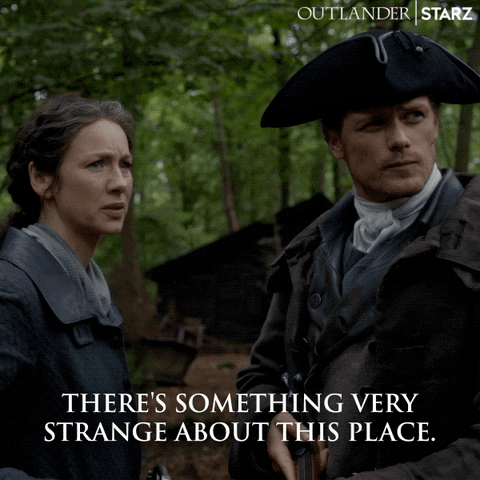 A True Gothic Horror…
The true horror story begins, complete with eerie settings, omens, religious references, symbols and imagery, a dilapidated cabin with broken windows, an ill-kept horse in the barn, a cat with kittens in the box where Kezzie lived, and goats (a demonic symbol) roaming inside the house. A heavy-set woman's angry face shockingly appears in the window. She says Beardsley is dead and shuts the door in Jamie's face. We agree with Claire. We have a bad feeling about this place, and we want to go. However, Jamie needs the papers. Fanny Beardsley lets them in as she goes to look.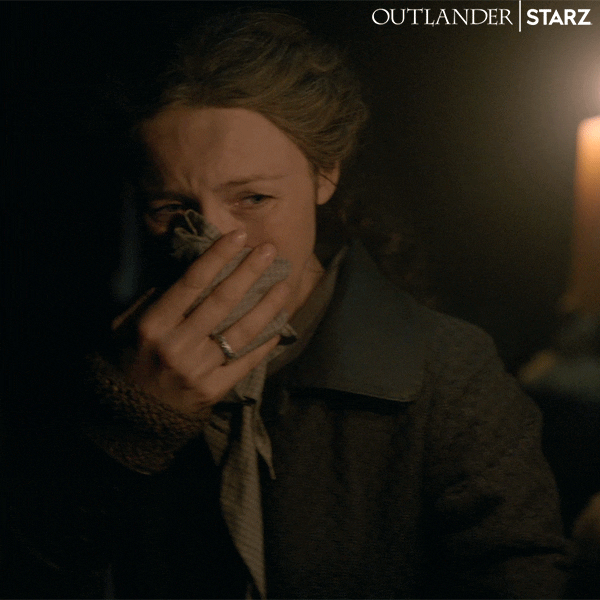 Jamie and Claire process the interior of this house as we immerse in a growing wave of fear and anxiety. Hash marks are carved into the doorjamb, as a prisoner would do to mark the passage of time. A crucifix hangs on the wall, a gagging smell of feces and rot permeates the air, "Billy" is ramming the closet door, and a manic Fanny Beardsley seems emotionally disturbed and hiding something. She reminded me of Misery's character Annie Wilkes, both in her demeanor and the fact (as we shockingly discover with Claire) that she was brutally torturing an incapacitated man upstairs, her abusive monster of a husband, Aaron Beardsley, paralyzed with a stroke.
She is keeping him alive — barely — so she can torture him and let him die slowly. She cuts, burns and brands him on a regular basis. He is wasted to bones with a gangrenous foot and covered with maggot filled bed sores while he lies in his own filth. He can't speak or move, and he can only communicate by blinking his eyes.
We are torn and unsure where our sympathies should lie in this wretched coupling. While Aaron Beardsley may have been terribly abusive, it's hard to condone this unusual woman's style of vengeance. While we struggle to process our own feelings, the story takes yet another strange and thought-provoking turn.
The Frasers face a difficult choice. As a doctor, Claire wants to do what she can to treat Beardsley, but Jamie cannot be delayed by this bizarre situation while his militia waits for him. At the same time, there is no way that he is leaving Claire alone in this madness. They both have oaths and responsibilities pulling them in opposite directions.
While they discuss their options, Fanny takes the opportunity to try to strangle Beardsley. She absolutely does not want him healed in any way. As she and Jamie fight and struggle, she smashes against the wall, the crucifix falls to the ground, and her water breaks. She is pregnant!
Claire delivers the baby, and they discover the father must be black. It's the first we see Fanny smile with her battered mouth and broken teeth. She's ecstatic and nearly weeping with joy because the child is not her husband's. She taunts the wretch on the table. "Do you hear that, you old bastard?! She's not yours!" In one of several stylized film techniques of this episode, we hear this through Beardsley's perspective, hazy vision, echoing sounds of laughter. His eyes reveal the rage, horror and anguish that his mouth and body can't express.
Claire speaks to her as a fellow mother, and we hear Fanny's heartbreaking tale, learning her name for the first time. "It's supposed to mean free," she says with sadness and irony. As she speaks, our own perspective shifts a bit, giving us more internal struggle. We learn more of this family's dark history and the scope of her own imprisonment, abuse and fear at the hands of this monster. She is his fifth wife. He has murdered the first four when they failed to conceive a child.
We gain a sense of the supernatural when Fanny reveals that his fourth wife's ghost, Mary Ann, talks to her. She was buried under a Rowan tree, a symbol of protection from evil. We learn that Mr. Beardsley constantly beat both her and the boys. Fanny mourns the life her baby will now face with this legacy. Can this little girl be saved from the consequences of her own sin? Or will Fanny's choices condemn her daughter to a miserable danger-filled life. What will become of her now? Fanny's story greatly reflects and magnifies Claire's own fears for Brianna and her family in this time. The horror hits home. Claire wants them to go back. She shares her dread with Jamie who faces his own struggles over her suggestion. This time may offer them more danger, but it also provides more power and strength. Their family is here as well as his own protection. They would be alone in the future.
The climactic final 15 minutes turns every dreadful aspect and struggle in this episode onto our main characters. Here lies the true power and resonance of this supposed "side" horror story. "Free Will" reveals all the inner dread, conflicts and personal "haunts" of our characters. It magnifies their individual yet complementary character strengths and moral imperatives. It forces them to make difficult choices under dire circumstances and reveal their true character. Above all, it crystallizes the power of their bond and highlights the reliance they have on each other.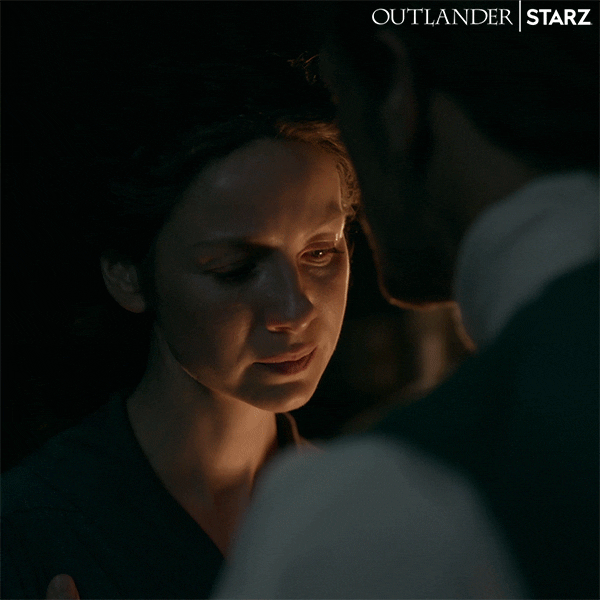 Fanny disappears in the night (and we are all a bit horrified that Jamie and Claire slept on the floor peacefully in this nightmarish place). She's left her baby in their care along with the property deed and indenture papers. As we process this turn of events, Jamie and Claire must face a last distressing moral choice. What will they do with this wheezing, putrid monster on the table? What would we do? What is the right moral choice? What is justice? What is mercy? It's a horror for Claire as a doctor.
Jamie relieves her and takes the mantle upon himself. He will offer Beardsley a merciful death. "I'd do it for a dog," he tells Claire. "Let it be his choice. His will." Jamie is dealing with his own nightmares, regrets and horrors. His flogging at the hands of Black Jack Randall brought on his own father's stroke, but he never saw it. He never saw how it affected the strong father he loved. Did he suffer this way? Jamie could not be there. He could not help. He could not provide him mercy or even bury him. Now he stands with this moral choice for this monster.
He picks up the crucifix and gently places it on the mantle to be a witness to what will unfold. As Claire waits outside cradling the baby in her arms, Jamie leans down and begins an intense series of interrogatives, laying out facts and queries to Beardsley, light shining behind him like an archangel. The camera shifts back and forth from looking up at Jamie's face to an intense shot of Beardsley's eyes. We are held, mesmerized.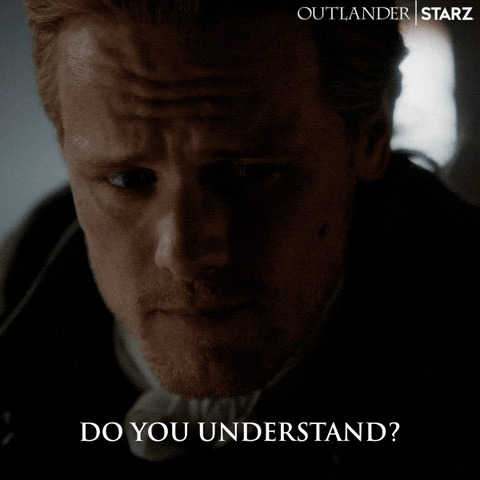 "Blink once for aye, twice for no. Do ye understand?" Blink. "Your wife is gone, ye ken the child isna yours." Blink. Jamie leans in. "My wife is a healer. You've suffered and apoplexy and canna be cured. Your foot is putrid. If it's no taken off, ye'll rot and die. Do you understand?" Blink. "Would ye have my wife take your foot and tend your wounds?" Blink.Blink. Jamie braces himself. "Do ye ask me to take your life?" We close in tight to one eye. Blink.
The intensity heightens even more as we switch to the blurred, swirling, echoed perspective of Beardsley seeing Jamie. Jamie's blurred face appears overhead surrounded in a glow of light, a God-like reverberation of his voice echoing in Beardsley's mind. Jamie offers a final chance at redemption. "By all accounts, you were a wicked man. I've no wish to send a soul to hell. Will ye pray for forgiveness?" All of the consequences of Beardley's choices have not turned his heart. Beardsley defiantly blinks twice… to Jamie's dismay.
While Jamie is a warrior, he has a code to killing, justice, honor and mercy. Life is God's sacred gift. Does this man deserve mercy? Is his slow death a payment for his crimes? Is it his place to intervene? In the end, he must do the same as all of us when faced with impossible choices. Follow our conscience and live with the scars that remain on our soul.
"Then may God forgive us both." And Jamie makes the sign of the cross. As he stands behind Beardsley and aims his gun, the pain on Jamie's face is palpable. We cut outside to Claire. A wind rustles dead leaves along the ground as we wait. The sound of a shot releases thousands of passenger pigeons from the trees in a scene worthy of Hitchcock. The eerie scene of these extinct birds evokes the idea of souls that are "Nevermore" released from the evil that held them.
Jamie exits the house, still haunted by thoughts and guilt over his father's last days. He asks Claire for a promise. If his father's fate should fall to him, will she swear to give him the same mercy he gave this wretch? Jamie knows how difficult that would be for her… but he must get her word. After a pause she agrees.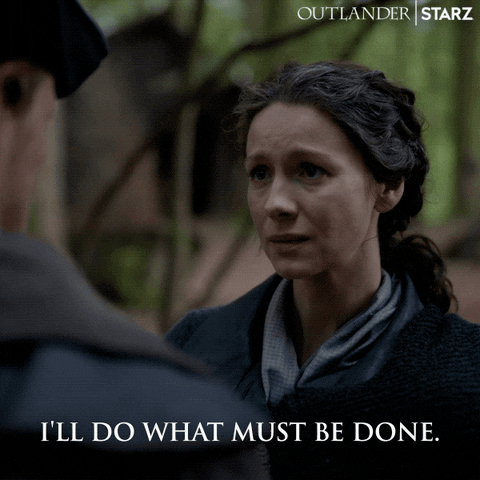 We end this episode with an ominous reminder of the fragility of life and the consequence of hubris. A mass migration of passenger pigeons fill and blacken our screen.
ECHOES OF HORROR
While this horror genre episode may feel removed from our story, it's actually not. The fear, difficult challenges and moral dilemmas reverberate in three distinct ways that impact our connection to this season.
The Characters
The episode exposes and defines each character's internal make-up, morality, strengths, weaknesses, fears and conflicts. Claire faces many internal dilemmas and fears: leaving her daughter alone on the Ridge, facing the unknown dangers that lie ahead in the coming conflict, learning that Bonnet is alive, realizing anew the kinds of danger and people that surround them in this time, struggling with the futility of her knowledge, deciding between healing and mercy, coming face to face with the abuse and horror so many women and children endure in this time.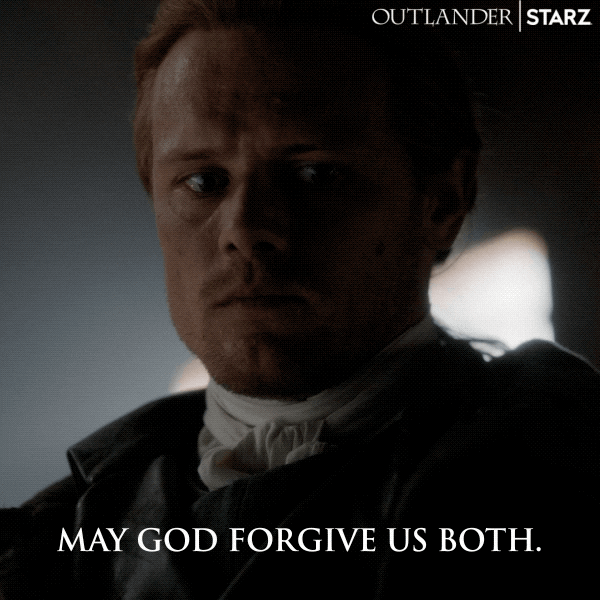 Jamie has to face the guilt of his father's death, the fear of his own fate, the decision between justice and mercy, the dread of not being able to protect his family and men when needed, the burden to clear Claire's conscience, and the choice of his own. We gain insight on Jamie's sense of morality, code of honor and spirituality through these grim circumstances.
Roger faces the horror of holding the men's lives in his inexperienced hands, the fear of separating from Bree and the worry he will never measure up to Jamie's approval. Bree must confront the fear of everyone she loves leaving home and the uncertainty they will ever return.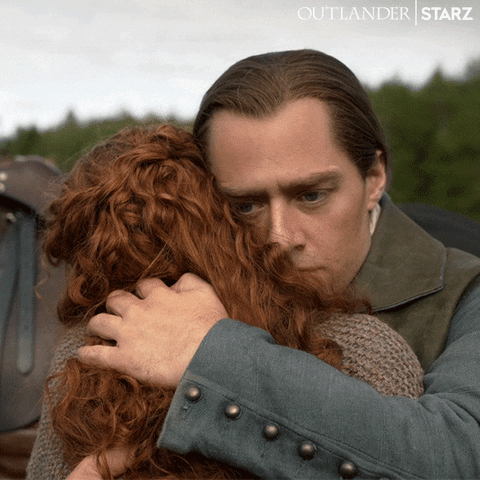 The despair, isolation and abuse that has shaped the lives of the Beardsley twins will impact their outlook and adaptability to a new life with people as part of a civil community.
The Time Period
Every element in "Free Will" demonstrates the very real horrors and difficulties of life in this time period. There are the daily living challenges of communication, transportation, food and shelter. You also understand the loss of simple antibiotics and medical treatment as well as the constant threat of oncoming war and dangerous wild animals or human predators.
The most distressing aspect of the Beardsley story is its reality. The scariest horror stories are based in truth. Sickness on ship passages often killed entire families. Orphans were often sold into indentured servitude or worse. Monsters exist in every time, and if one bought your indenture, your life would be filled with despair and abuse. Additionally, women had no rights. They had no recourse if married off to an abusive man. They had no legal system or community to turn to in the isolated backwoods. An abusive husband owned them and would have free rein to victimize and terrorize them daily, and yes, even murder them.. and no one would know a thing.
It's one of the reasons community was essential. It's why the settlement of Fraser's Ridge stands as a refuge against some of the inherent dangers of the time.
Ourselves
Lastly, a thought-provoking episode like "Free Will" challenges us to struggle with our own sense of morality. The emotional impact of Frasers' shocking, grim experience pushes us out of our comfort zone to ask ourselves hard questions. How much vengeance is justified? Should mercy be given for monstrous behavior? When should we intervene, and when should we walk away? What would we do if faced with the hard choice of never seeing our children again if we thought they might be safer without us? How does one stop the cycle of abuse if it's all you have ever known? Did Fanny do the right thing leaving her child with these two strangers? Would we do the same in her circumstances? These are just some of the questions that stayed with me long after this very unique episode ended. For me, that's excellent television in any genre.
What were the moments in this episode that you found the most gothic and horrifying?