Among the many emotional fan debates on Outlander the book series vs. Outlander the STARZ TV show, none raises more ire than if/why Jamie Fraser gets short shrift. Holly Richter-White analyzes why TV Jamie is different than Book Jamie.
I've had this article in the queue for a long time, as Droughtlander is verra long, and we have to spread out our articles across the parched timeline. But now, with the release of the Season 3 DVD (a treasure trove of deleted scenes), the Jamie/Sam fans have come out of the woodwork. The responses include complaints about Season 3, suggestions (demands?) for how to prevent a Season 4 "tragedy," and a slew of generalities: "Sam's been robbed," "Jamie's been emasculated," "it's all Claire, all the time."  Outlander BTS encapsulated the fandom's woes in her recent post.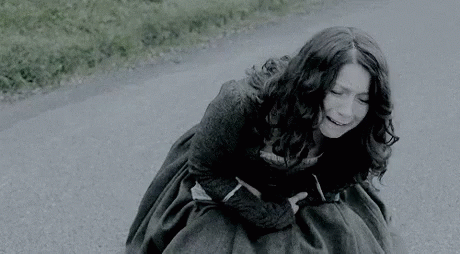 But I'm here for a different purpose. I'm here to use any and all of my expertise as a screenwriter to offer fans a solution, not just to parrot them. Consider it an antidote of sorts, with this warning: my medicine may be a little bittersweet.
Even Matt. B. Roberts had enough of the criticism, and deleted a whole post on Instagram due to the tone of the conversation. I saw it. It was nasty and wholly misinformed. It almost read elitist and entitled. Seriously fans, your "ask" is too high.
It's hardly critique if you are misinformed, and that's what many fans are still, sadly, wanting so much to believe in a given narrative so beautifully dreamed up by Diana Gabaldon in the Outlander book series. But, here is the truth:
The adaptation to TV (a visual medium) is different.

That's not the story Ron, STARZ and Sony purchased.
Don't get me wrong — I love the books, the characters, the character development and the plot. It is the best and certainly the more fulsome of the two mediums in sheer detail. I love how Jamie's  story is told through Claire.
Yes, in the books, it is Jamie's story…

…told through Claire.
How do I know this?
Well, it's straight from Diana's husband, Doug.  In conversation with Diana, he said he felt that book fans "don't realize that the show thinks it's telling Claire's story, and Jamie is an important part of it. What _you're_ doing (Diana) is telling Jamie's story all the time, through Claire. That's your particular magic, to make those two be part of each other, and no TV show could ever do that."
Then, of course, Diana explained further (in great detail so there's no misunderstanding):
"What _I_ think is that a) of COURSE it's Jamie and Claire's story. How could it not be? It wouldn't be the same story without either one of them—as is quite obvious when you see the separate tracks of their lives in the first part of VOYAGER. And b) what is behind my husband's observation is true, but it has nothing to do with the importance of either character _as people_.
It has to do with the fact that Jamie lives in much more interesting (read, dangerous, unpredictable, and to a large extent unfamiliar) times. Claire's post-war, 20th-century life without Jamie is, on the surface, not real interesting. Re-establishing emotional connections with a husband (but in a context of mutual safety and mutual desire to make those connections), or (later) dealing with the challenges of becoming a professional woman and balancing those challenges against the responsibilities and emotional involvement of motherhood.
Yeah, you can make a good novel out of such material—hundreds of Women's Fiction novels do. But the raw material is not intrinsically interesting. What makes it interesting is either the intense and unique personality of the main character and/or cultural interest/outrage on the part of the readership regarding the situations depicted. Women respond to this kind of story because they face those challenges, and they want to see how other women might manage them. Men, not surprisingly, don't; that's why it's "women's fiction."
So, Jamie's story. He's a wanted outlaw, constantly at odds with just about everybody, from the British government to a large segment of his own family. There's incipient social unrest surrounding him (and his whole culture), with the constant potential for violence, subterfuge, mistrust, and imminent execution. In other words, he lives in a high-stakes context; Claire lives in a very personal (but overall low-stakes) context. Adventure (and the demands of such things on character, for good or evil), vs. "My husband KNOWS I take care of a squalling baby all day, how can he bloody invite people to DINNER without asking me?"
So. You introduce Claire into Jamie's time (and his life) and she immediately enters the much more adventurous, vivid context. A lot of what happens to her in OUTLANDER (and later books) has to do with who Jamie is and what he chooses or is forced to do. This doesn't mean she's a bystander, onlooker, or in any way a nonparticipant; the fact that she's _there_ is vitally important, both to Jamie and the story overall, and she makes personal choices that shape her own life (and Jamie's), as well as dealing with circumstances forced upon her. But it's Jamie's context in which both of them live their lives together. She's telling it, because she's the outlander, the fish out of water, the stranger—we identify with her, because that's what our role would be in similar circumstances, and it's a much easier way to tell a historical story, if you can use modern idiom and perception (and gives you the opportunity for subtle social commentary—at least we hope it's subtle…). That doesn't mean it's principally her story, or that her part in it is either more or less than Jamie's—as previously noted, the story itself doesn't exist without both of them, and both of them _together_.
But if you're looking at the structure of the story, then yeah, it's Jamie's story as told by (and lived with) Claire.
—Diana
P.S. Yes, I know some people connected with the show say it's "Claire's story." They do so for their own valid reasons, and they're entitled to their opinions, too. I'm just telling you what _I_ know. The books are the books and the show is the show—and I write the books."
To add to that "framing," the TV show didn't do any favours by casting roles in the order it did, albeit unintentionally. They found their Jamie first. That set the stage for fans, who framed the new TV show, in the same way Diana framed the books (above). But that's NOT what Ron and company intended.
We've heard it over and over from Ron, "It's Claire's story," "Claire is the protagonist." So, say that's true. But then fans want to know:
What does that make Jamie? Her sidekick?
No. Not all all. He actually has a significant role to play as the show's deuteragonist.
A what, you say?
This is the second person the show revolves around, a character whose actions drive the plot just as much as those of the protagonist.
The deuteragonist has enough importance, without needing to be always next to the protagonist. It is as important as the protagonist and in the work has the same attention, without being the main character of the story. In a romantic story, the "official couple" will usually be the protagonist and deuteragonist. And indeed, as we've noticed, the deuteragonist does not need the same intense and complete emotional expression of the protagonist.
The Greeks identified their characters in the works with these denominations: protagonist, deuteragonist (Jamie) and tritagonist (depending on the season, Black Jack, Frank or Geillis), and sometimes they were interpreted by different actors or sometimes the same actors performed different roles. The deuteragonist (and sometimes the tritagonist) strengthen the expression of the emotions of the protagonist, offering friendship, empathy and sometimes observing the waves of pain of the main character.
So, indeed it's still Claire and Jamie's story, as Diana said, but with the clear delineation between the two characters' roles. If the writers don't make this clear in their scripts, then the editor changes the scene's dynamic to reflect this, as we've seen (stay tuned for an upcoming blog post on this).
One additional aspect: the deuteragonist is often the most sympathetic of characters.  Sam Heughan as TV Jamie has an abundant number of highly empathetic fans, who not only saw him cast first and presumed he was the lead, but who are also more attached to him due to his more expressive social media orientation and his involvement in his own charity.
But what's lost by (mostly female) fans in all of this is the more targeted feminist stance of the TV show. Truly, politics aside, every country is going through similar gender imbalances, only heightened in awareness by #metoo and #50/50. All of issues Claire faces in the 1700s and 1900s are eerily similar to what is still happening and that we had hoped were in our recent past.
Here we have a female protagonist in our favourite story, reaching millions, and we're complaining about that? When we (myself included, at times) revert back to the good ol' books, and then to TV, and want to complain about Jamie's comparatively more unemotional or subdued role, I suggest we really give our heads a shake. We've come a long way, baby? Nope. See the common introductions to female characters this script-reader gets:
Diana sold the rights to Ron D. Moore. He's entitled to use her characters, her series plot in a televised visual medium. Ron, STARZ and Sony have all of the legal rights in the world to take this, twist it, and morph it into their own plot lines, with their own tilt. Sure, they could have made this story with this logline (a one sentence description of what it's all about):
"The adventurous life of a Highland warrior who marries a 1945 English combat nurse when she's mysteriously swept back in time to 1743."
There is nothing out there about selling your rights and ensuring the exact content and tone are matched. First, it's impossible with a transition from book to film, and second, it's not as creative.
To acquire truly great writers, they don't want to take everything on a page and merely plonk it into Final Draft. Boring. They want to put their own stamp on it. Selling your rights, properly, is all about ensuring the money is there for timely and proportionally scaled production to represent your book, not re-create the book verbatim.
The reality is, Outlander TV's logline was always its biggest clue yet:
"An English combat nurse from 1945 is mysteriously swept back in time to 1743."
It's Claire's story. Get used to it. It's not going to change. Outlander books, and the resulting TV show, are both ahead of their time.
             Do you agree? Whose story do you think Outlander tells? Is it different for you in the books vs. the TV show? Is that okay?