Murtagh lives! Now that the Outlander STARZ show has deviated from Voyager, the big question is what's next for Murtagh? 
At the end of Outlander Season 2, I started preparing for something that I at once dreaded, but also hoped to celebrate and revel in. It was something that I had feared putting into words, but yet something I was looking forward to pouring my heart and soul into for a character and a man that I had grown to love deeply. I was preparing to write an obituary for Murtagh Fitzgibbons Fraser as I had expected we would see the last of him at the Jacobites' final stand on Culloden Moor.  I am not alone in this devotion to the character of Murtagh or the sorrow that we all thought would come once Season 3 began and we witnessed the fate that Voyager readers knew awaited him. There were many in the Outlander fandom who had flooded social media with requests of the writers and producers of the television show to provide a stay of execution for this beloved and stabilizing force in a saga that found too many of our cherished characters killed off – some in violent and heartbreaking ways.
But, what of Murtagh? Could he be saved? Should he be saved? We got the answer to the first question in Episode 3.03, "All Debts Paid," but it is worth exploring the second question, and perhaps speculating a bit on how and when we might see this character emerge once again. Outlander's producers #LetMurtaghLive. Now what?
Stepping back, in July of this year, Outlander Cast supported a lovely group of ladies who attended the San Diego Comic Con. I worked as the Street Squad's "virtual assistant" behind the scenes and was in constant contact with them throughout most of the Comic Con. Once it was revealed Episode 3.01 would be shown during the Outlander panel, the ladies went digitally dark per threats instructions from security present at the event. The whole time the ladies were in "black-out" during the airing of the episode, I was formatting in my head the first question I would ask them once communication was re-established. The question I landed on—because it was most important to me—was "Did you see Murtagh die at Culloden?" I remember distinctly the answer I received from one of our Street Squad members.  It was a definitive one word—"no."
At the time, I found this interesting but wasn't yet ready to admit to myself that Ron Moore and company really did let Murtagh live. How could they?  So much of the story would be altered. Jamie's 20 years are spent essentially alone, mourning the loss of Claire and his child; he was an outlaw, a prisoner, with no free will and scant confidantes with whom to share his sorrow. It is an integral part of Jamie's development as a character and would shape who he would be once Claire finally returned to his life. Having his godfather, his protector, around would change all that. At least this is what I told myself after listening to other fans and even series author Diana Gabaldon expound on the subject of Murtagh's ultimate fate in the books and why that should not change.
But, upon first watch of Episode 3.03, when I heard that voice in the shadows of Ardsmuir prison and then saw the all too recognizable beard, eyes and, of course, expressive eye brows, my heart literally leapt. It was true, then. My mind immediately jumped back to October 2015 when I wrote one of my earliest blog posts for the Outlander Cast about the character in Season 2 that I had grown to love and the actor I greatly admired for his portrayal that went far beyond the source material—in a good way.
The actor who plays Murtagh, Duncan Lacroix, is a relatively low-key man. Not nearly as loquacious on social media as some of his co-stars, nor quite as ubiquitous at the fan conventions. Prior to his role on Outlander, Duncan had worked fairly steadily as a stage actor and in a handful of movie/television roles—"steadily" being a relevant term for most actors. As I mentioned in my post, he was quite the opposite physically from Book Murtagh who was described as short, slightly built and rat-faced. Duncan is over six feet tall, wide shouldered and somewhat physically imposing. He is a handsome man—with or without the beard, and in no way rat-faced!
I was honored to meet Duncan Lacroix at a fan event in New York City this past summer, and I have to hand it to him. First of all—he was mobbed by the very enthusiastic crowd that night who were desperate to show him all_the _love for his wonderful depiction of Jamie's godfather and ever present guardian. He handled the somewhat aggressive showering of attention with grace. Second, he was extremely generous with his time with each and every fan there. And, he had stories—lots and lots of stories. In particular, he shared how he came to understand the character of Murtagh and what he drew from his own life especially with regard his heartfelt portrayal of Murtagh losing his long, lost love, Ellen MacKenzie, Jamie's mother. It was touching and genuine and we were all spellbound as he told his own story of love lost.
I fell in love with Murtagh/Duncan a bit more that night. And, indeed, my Outlander fan journey completed itself a bit more after meeting Duncan that evening. He was delightful and all I kept thinking was how much we would miss him not just for Murtagh but for the kind, slightly quirky man that he is in real life. Looking back, I have to say that he was a master at keeping a secret despite the whisky that was flowing that night and that we ALL had quite a lot of! Bravo, Duncan, for keeping your wits in check and secrets kept despite multiple drams!
But, now we know—Murtagh is alive. And, while not as vital a man as he was at Leoch, in Paris or at Culloden, he was well enough to make the journey to the colonies after several hard years at Ardsmuir prison and…and…AND??? It is no surprise that speculation abounds on the Interwebs about Murtagh's journey to come. There are fans who are overjoyed and fans who are disappointed. But, let me say, I think it's universal among Outlander fans that Duncan Lacroix is adored and ALL are happy he will continue to be employed to a certain extent by the Outlander production. In fact, I think there are few things that Outlander fans agree on more than this except perhaps the delight felt by the occasional views of Sam Heughan's arse on screen. But, I digress…
So, yes, we are all happy that #DuncanKeepsWorking, but fan reaction has been mixed as to what to do with Murtagh going forward in the story. We know that he was separated from Jamie and headed in the general direction of the American colonies, because that is what the show told us and true to history, where many Scottish Highlanders ended up after the colossal defeat of the 1745 Rising. We also know from the show that Jamie has not seen him again prior to Claire coming back through the stones—or the puddle—as the case may be. As for Diana Gabaldon, she has been extremely politic about the change.
And, shortly after Episode 3.03 aired, Diana said this—
"Did I think keeping Murtagh alive was a good idea, in terms of how it might affect the story? I had no idea, because I didn't know how or when they meant to stick him back into the story—but when I got the 303 script and saw how he was used, I thought that was OK."— Diana Gabaldon, Facebook 9/27/17
I appreciate Diana's honesty and candor and take from this that she accepts the decision to keep Murtagh and while harboring some doubts, is fully on board with the fact that the show is the show and the book is the book. It's what she has said repeatedly to fans lamenting the smallest of changes in the show. And, I have to say, I agree with this approach and wrote about it some time ago for Outlander Cast in a post titled, "Embrace Change." This was during yet another period when fan ire had increased exponentially about some minutiae in the Season 2 production.
However, going forward in the story, Murtagh can go a couple of different ways.
CAUTION — *SPOILERS AHEAD* — Read at your Own Risk — Don't Read if You Don't Want to be Spoiled — CAUTION
Scenario #1
Upon their arrival in the colonies (or shortly thereafter), Jamie and Claire could learn that, indeed, Murtagh arrived safely but then contracted a disease and promptly died.  There would need to be some onscreen time for Jamie to grieve and perhaps there will be a flashback or two —as usually major characters don't typically die off-screen. I am pretty sure the Outlander production and the fandom has too much respect for Murtagh/Duncan for that to happen. This scenario would be an anti-climatic end to the Godfather, but an end nonetheless and the story would continue unencumbered.
Scenario #2
Murtagh could replace a character that enters Jamie and Claire's life post reunion and/or after their arrival in the colonies. There has already been a lot of speculation online as to whether Murtagh could, in fact, morph into the Duncan Innes character that we first meet at Ardsmuir and then further on in the book series where we spend quite a lot of time with him in the colonies. I won't go into a lot of detail here about this supposition except to say that if this came to pass, it could be very interesting to see a certain marriage with a certain Aunt of Jamie's given Murtagh's professed love for Jamie's mother. It would give new meaning to the term "all in the family."
Scenario #3 (aka Let Murtagh be Murtagh)
In case you are wondering, #3 is my preferred route for Murtagh in the future. Here is why.
I go back to my post about Murtagh and how Duncan Lacroix took this relatively obscure book character to new heights in the television production of Outlander. Murtagh stood on his own in Seasons 1 and 2 and did it magnificently. There was scarce source material to base the character on, but Duncan made it uniquely his and uniquely Murtagh's. A character grew in importance in the story and for all the right reasons. The story of Murtagh was completely character driven. It soared on the foundation of a long cemented and long cherished relationship between a young man—Jamie—and his kin and fierce protector, mentor, Godfather and confidante—Murtagh. The Jamie-Murtagh relationship and the story that was built around that is what endeared so many show watchers to the character of Murtagh. Claire even got in on the act as we saw many tender moments develop along the way between these two, as well. And, for book readers, we learned much more about the deep seeded loyalty and love between these two men as it was fleshed out vividly in the television show. Hashtags such as #AlwaysBringAMurtagh sprung up all around the Internet as we saw scene after scene of Murtagh's tender regard for his godson and the lengths he took to guard the pledge made to Jamie's mother to always protect her son.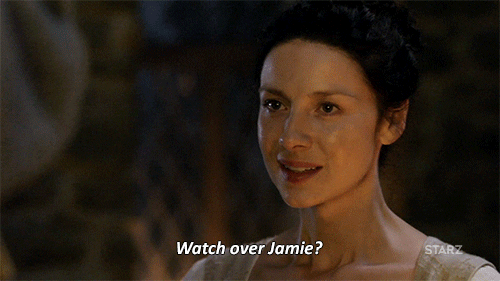 So, why not just let Murtagh be Murtagh as we move forward in the story? He doesn't need to be substituted for another character. He doesn't actually have to play a large role in terms of scenes or lines. Because, as we all know, his lines were short and infrequent in most of Seasons 1 and 2. But, what Murtagh did say and, more importantly, what he did, impacted viewers at a deep level. This is just called talent, ladies and gentlemen, and Duncan Lacroix is to be applauded. I see no reason to fix what isn't broken.
At the end of the day, for those that worry that any on-screen relationship between Murtagh and Jamie in Season 3 will take away from Jamie developing relationships with other important characters, I say—don't worry. By the time Murtagh gets to the colonies he will be well into his 60s and at that time in history, life expectancy was not much beyond that. Murtagh would have suffered the hardship of a long voyage and life as a prisoner for many years. As Murtagh's life winds down, maybe what we will see is a role-reversal of sorts. Perhaps, Jamie will care for an infirmed and, perhaps terminal, Murtagh as once he was cared for and protected by the elder man. And, wouldn't that just be the ending we would all like to see for this wonderful character and all that he has represented in this story?
I am glad I did not have to write "Dearly, beloved, we gather together to celebrate the life of Murtagh Fitzgibbons Fraser" as I once thought I would. Instead, I will save that for another day as we look forward to seeing Murtagh be Murtagh in the way he has always been in this story. Not a scene-stealer, not hogging lines or screen time, but as the quiet, solid screen presence we have come to know and admire. And, hopefully, we will be privileged to see him meet his end with dignity and with the one person by his side that he truly loved and lived for throughout his life—Jamie. Murtagh can and should stand on his own going forward.  No creativity needed, really, as far as the script or the plot. Let Murtagh finish his run with Outlander as the man we have always known him to be. It is what we expect of his character and what we truly love about him.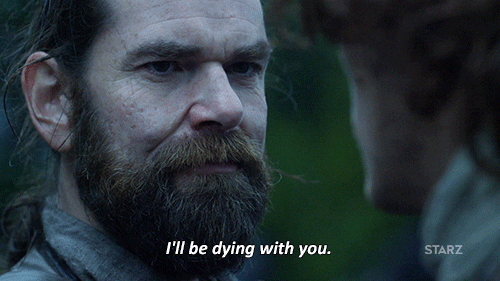 Are you on board with the television production keeping Murtagh alive?  If not, why not? Which of the above scenarios, if any, would you like to see play out and why?